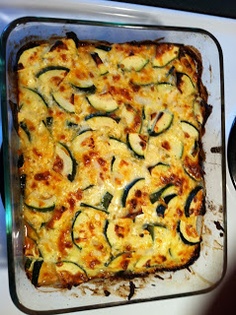 I realize that not everyone who is trying to lose weight is a meat eater. There are lots of people out there losing weight who are vegetarians.
And I thought it's about time I showed everyone a really great vegetarian dish.
Of course, it's perfect for anyone dieting period. Meat eaters and vegetarians alike will really enjoy this diet recipe.
The ingredients in this recipe are absolutely delightful and it really incorporates something different into your diet meal plan.
It's important not to get bored and to have an array of diet recipes that are healthy AND very appetizing in order to lose the weight.
Today's yummy diet recipe is going to be zucchini casserole.
Now I know it doesn't sound very appetizing as the name for this recipe sounds kind of dull but trust me it is way better than it sounds.
Whenever I think "weight loss" – I remember this one!
It's low in calories, and is absolutely healthy and delicious – exactly what is needed for losing weight healthy!
For this recipe, you should eat it in moderation.
It's not low calorie or low fat enough to have on a daily basis.
But it's definitely something you can add each week to your meal plan to enjoy.
And it will still help with your weight loss as the daily values are still reasonable.